Time: 
September 9, 2023

Event Location : ​
No. 14, Sec. 1, Wuchang St., Zhongzheng Dist., Taipei City (City God Temple of Taipei City)

Introduction:​
Since 2009, the Department of Civil Affairs of Taipei City Government has been jointly organizing the annual Zhongyuan Pudu Peace Praying Ceremony with City God Temple (Cheng Huang Temple) of Taipei City. The organizers aim to reform the conventional worship customs by promoting eco-friendly and solemn rituals. The organizers further urge the public to reduce the usage of incense sticks and joss paper as to centralize joss paper burning as well as to replace joss paper with rice. 
In 2018, in response to the Department of Civil Affairs' policy of "replacing joss paper with rice", City God Temple launched a creative product, Black & White Blessed Rice. The two colours ?? colors symbolize the realms of the living and the dead under the government of City God or Chenghuang Ye.  In recent years, to set an example for all devotees,  City God Temple uses cone-shaped piles of black & white rice to replace the offering of joss paper. It is an ideal way to preserve the traditional culture and the environment as worship is not about rituals, but a devout involvement of the heart. 
Taiwan Provincial City God Temple puts a lot of effort into the preparation for the annual Zhongyuan Pudu Peace Praying Ceremony. The ornamental meals for the deceased are beautifully displayed with marvelous craftsmanship. The exquisite visual feast implies various Buddhism meanings, such as praying for peace and blessings while averting disasters and bad luck. The Temple also stacks numerous packages of blessed rice and turns them into patterns of Bagua (eight trigrams), Dharma Wheel, swastika (sign), etc. In recent years, there are also blessed rice treasure ships, delicate ice sculptures of flower bouquets, and fruit carving artworks at the ceremony to pray for favorable weather, peace, and prosperity.
Reducing CO2 in Emission while Worshiping Gods: https://reduce-co2.civil.taipei/Default.aspx

Officer: Wang, Zhen-Ru
Phone: 02-2361-5080
Website: http://www.citygod.tw/ 

 

 
---
1.Announcement and online pudu
2.Announcement and online pudu
3.Presenting the worshipers and participants' list to the City God
4.The Department of the Civil Affairs offering rice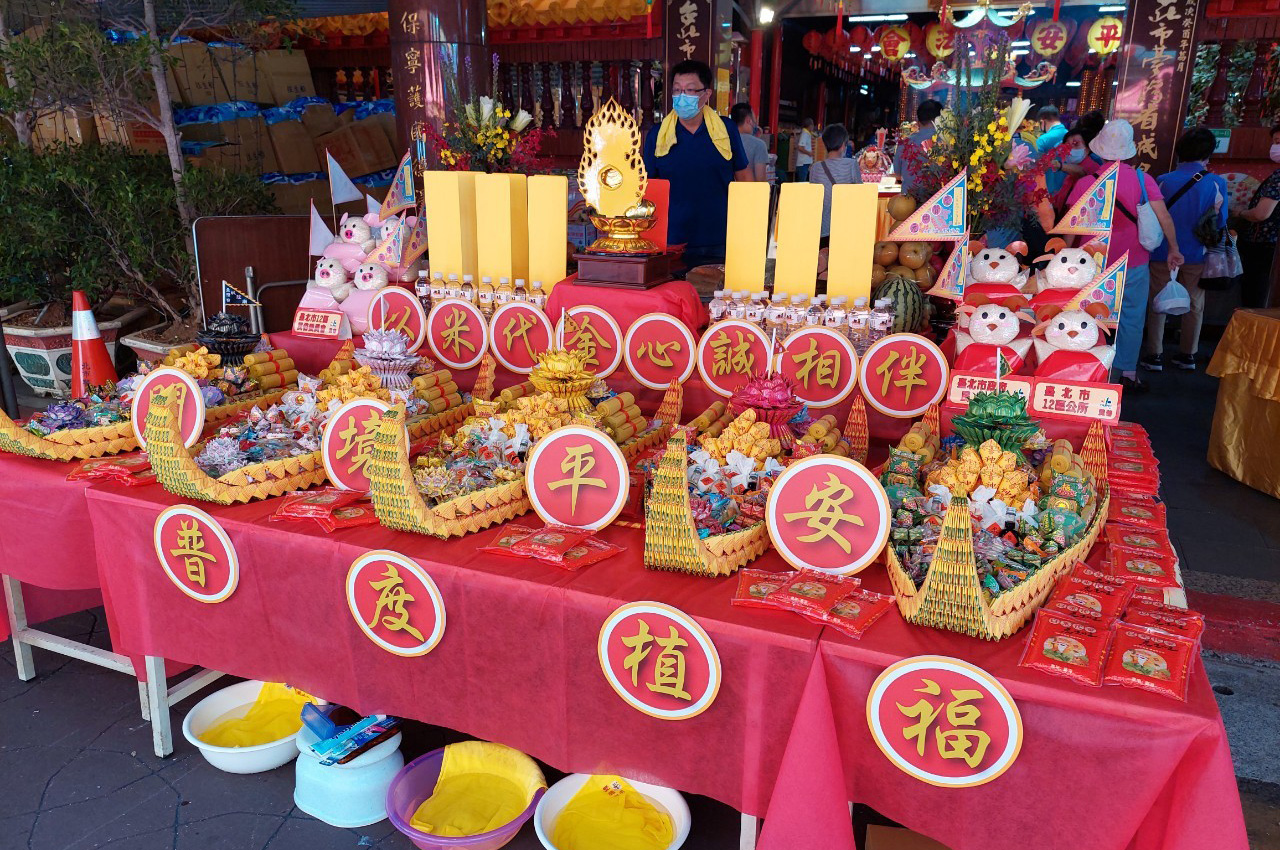 5.Replacing joss paper with rice
6.Rice Pig and Rice Sheep Modeling Sacrifice
---
Advisor: Taipei City Government
Organizer: Department of Civil Affairs of Taipei City Government and Taiwan Provincial City God Temple 
Co-organizer: 12 District Offices of Taipei City